EMI gaskets offer environmental sealing, thermal insulation, and electromagnetic interference shielding. They are constructed of highly electrically conductive elastomers like silicone or fluorosilicate. Their materials adhere to strict requirements, support a range of fabrication techniques, and can be provided with electrically conductive adhesive backings for simple installation. Read More…
EMI Gaskets
EMI (electromagnetic interference) gaskets are used to isolate different components of an electrical device from one another, and thus create more robust EMI and RFI (radio frequency interference) protection by preventing the leakage of EMI in or out of an enclosure through seams or gaps.
Although there are many different EMI shielding materials, electrically conductive silicones offer performance and variety to gasket designers. EMI gaskets specifically close the space in-between two mating surfaces. They block out the outside environment or seal in to stop leaks. EMI gaskets are unique because they also protect from conducted or radiated EMI, which can disrupt circuits.
Signals are neutralized, and an electrical current results when this EMI noise hits the EMI gasket. The essential electrical conductivity is imparted by the inclusion of metal-coated particles, as silicone is typically an electrically insulating material rather than a conductor.
Types of EMI Gaskets
Although most gaskets are made of electronically conductive rubber, they can also be made with rigid, spongy, or fabric-reinforced materials to improve performance. Based on the materials employed, gaskets can be made in almost any size or shape. EMI shielding gaskets typically have a thickness that starts at 0.003 inches and diameters of 0.250 to 60 inches. When selecting the proper gasket, limit EMI interference and the number of bolts or fasteners required to meet shielding requirements.
Groove Mounted EMI Gasket
Groove mounted gaskets are positioned in a groove before being machined, extruded, or cast. To offer pressure resistance and spring memory, grooved mounted gaskets are woven from spring temper beryllium copper. High-shielding material for aerospace and military applications is fantastic because it frequently finds solutions to issues that the other barriers cannot. These gaskets are a wonderful option for many commercial and industrial applications since they typically provide shielding performance of up to 165 dB according to their application. Die-cast or molded gaskets with "pinch boss" grooves can provide a long-lasting barrier.
Multiple Sealed Grooved Mounted Gaskets
Multiple sealed grooved mounted gaskets are EMI and environmental gaskets combined. They're ideal for high-quality sealing. These gaskets typically provide insulation between 86 and 165 dB.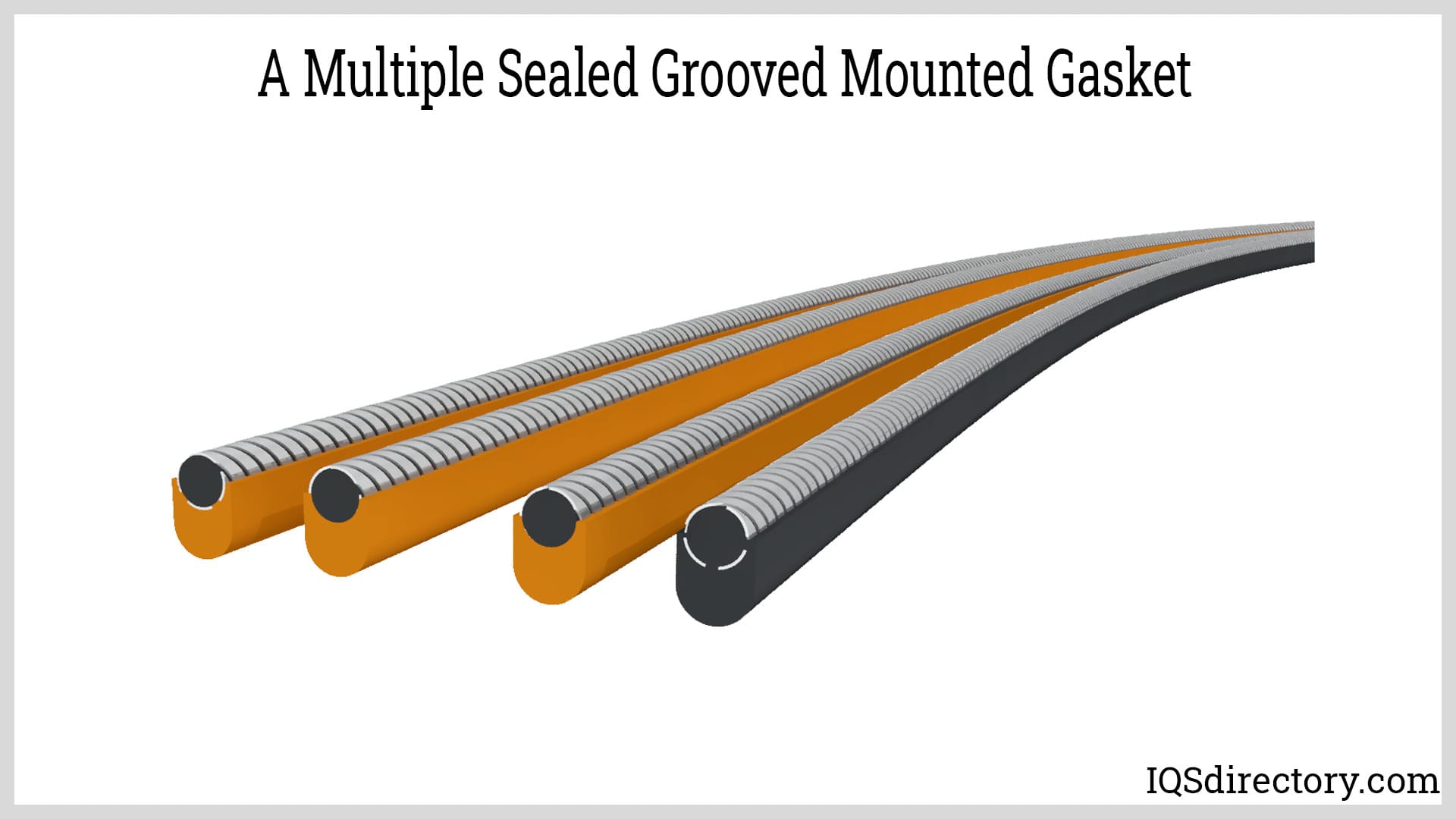 Silicone Grooved Mounted Gaskets in Stainless Steel
Grooved gaskets are made with a silicate compound and alloy steels as a major material. These are frequently minimal closure force shields, used when compression is less than or equal to 2 pounds per linear inch. These grooved gaskets are very simple to use and resist compression set. These gaskets can also include aluminum, which improves their ability to shield.
Shielding For Surface Mounted EMI
Shielding for surface-mounted EMI is beneficial when there is plenty of space. Surface-based gaskets are another option. A silicon elastomeric extrusion is affixed to some surface-mounted gaskets, producing a superb low-force environmental seal. These kinds of gaskets typically provide shielding qualities between 86 and 165 dB.
Constructing an EMI Gasket
A gasket's design procedure is determined by its intended function. Gaskets for EMI shields are frequently produced via die-cutting, digital die-less manufacturing, and pressure-sensitive adhesives. When deciding which product to buy, it's helpful to understand how various gaskets are constructed. A die-cutting procedure is used to produce many gaskets. In other words, a rubber piece is hammered out and then turned into a gasket. This method can seal unusual shapes with die-cut gaskets.
A digital die-less cutting method that maximizes value and reduces waste can be used to build gaskets. This manufacturing process is particularly efficient from an economic standpoint. Adhesives with pressure sensitivity can also be used to create gaskets. Framed gaskets, O-ring gaskets, and other special gaskets are typically made using this method.
Instead of using sheets, rolls, or extrusions, compression molding is used to create EMI gaskets using ready-to-mold compounds. These EMI gaskets are formed as a single piece, but tooling is necessary. As there is no empty center to discard, forming can enhance material yields for picture window" style seals with an empty region in the center. Complex models can be molded to eliminate PCB components, provide retention features, or offer a form factor for a lower closing force.
Choosing the Correct EMI Gasket Manufacturer
To ensure the most positive outcome when purchasing EMI gaskets from an EMI gasket manufacturer, it is important to compare several companies using our directory of EMI gasket manufacturers. Each EMI gasket manufacturer has a business profile page illustrating their areas of experience and capabilities, and a contact form to directly communicate with the manufacturer for more information or request a quote. Review each EMI gasket business website using our patented website previewer for a better idea of what each company specializes in. Then, use our simple RFQ form to contact multiple EMI gasket businesses with the same form.
EMI Gaskets Informational Video